As the world has retreated inside homes due to lockdown measures to curb the covid-19 pandemic, reports show an alarming increase in cases related to violence against women. But even before the covid-19 hit, violence against women and girls has reached pandemic proportion and has intensified the risk of women. Women in India face many forms of violence from womb to tomb which is the most pervasive form of human rights violation.
But it's time we raise our voices and unmask the perpetrators. Every year in order to raise awareness about gender based violence as human rights issue at local , regional , national and international level a global campaign called "16 Days of Activism" is celebrated from 25th November as "International day for elimination of violence against women till 10th December which is celebrated as the human rights day.
This year Anahat celebrated 16 days of activism by conducting various events and training sessions for uplifting underprivileged women by skill development and livelihood generation.
Anahat along with Rangeen Khidki Foundation supported Khalsa Aid in conducting sustainable menstruation training with 30 young girls in a government shelter home in Sundarbans. These young girls have come a long way from the hurdles of life. We were surprised to see the energy and zeal they showed towards the training from Day 1. The training took place from 23 rd November to 26 th November. The girls were first made aware about the basics of menstrual cycle and then the sessions continued with stencil cutting and stitching cloth pads concluded by sessions on branding and marketing their final product. We feel extremely delighted to be a part of this futuristic project.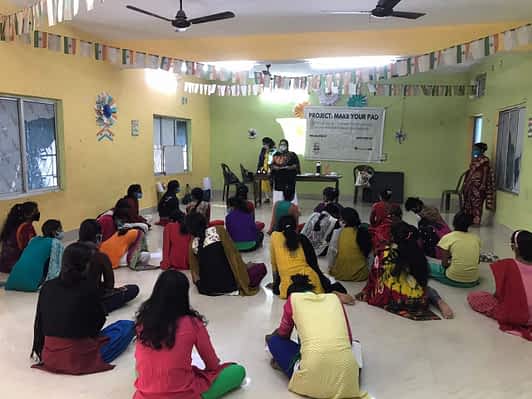 Training on reusable cloth pad making and menstrual health & hygiene awareness was conducted by Anahat with the support of SVP India Kolkata Chapter in the Hanshkhali Block of Nadia District (Indo-Bangladesh Borders) among 19 young girls. This training mainly targeted to help the women along the borders as they are facing various backlash in terms of communication, livelihood generation, material access and especially disposal of sanitary pads which are mostly dumped in the Icchamati River creating a huge problem in terms of waste management. This training will not only help women in terms of easy access to menstrual product but also help them in generating a livelihood.
These women were given 75 kits each for making cloth pads after the session for practising. We are very grateful to Sreema Period Project for organizing the training and co-operating with us in every step of the way.
Anahat is currently conducting WASH training in collaboration with World Vision and UNICEF West Bengal in Ward 66 of Kolkata at G.J Khan Road Topsia from 7th Dec onwards. This training is focusing on sustainable menstruation, handwashing practices, women's' hygiene along with fabric masks, underwear and re-usable cloth pad making. The first training was attended by about 42 underprivileged women from the nearby catchment areas of Topsia. The batch consisted of women from 18-40 years of age who were all very enthusiastic to learn more about menstrual hygiene and health and participated in the session very well. This training aims to empower women and girls during these difficult times.
For a long time now women constituted a majority of the poor and are often the poorest of the poor. The inequality and disadvantages that they face shapes their experience of poverty differently from that of men. It makes it more challenging for them to climb up the ladder of poverty. Girls and women in poor households bear a disproportionate share of the unpaid household work and due to effects of Amphan and Covid 19 they are now being forced to choose between food and menstrual hygiene products. Anahat is making an effort to make these women in Sundarbans, Indo Bangladesh border and Topsia Kolkata self-reliant by not just training them in cloth pad making but also by helping in creating a market for the products. This was great initiative to bridge the gap of gender based inequality and help young girls and women bleed freely and with dignity and also support their livelihood especially after the aftermath of Covid-19.